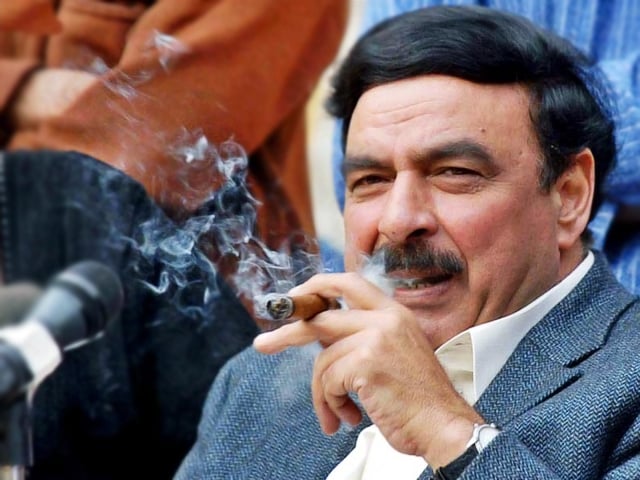 ---
KARACHI:
The recent multiparty opposition confab has created political buzz in the country, with every day springing a new surprise and providing grist to the rumour mills.
Railways Minister Sheikh Rashid, who is known for his political prophecies, has predicted possible implosion of the PML-N, claiming that the process has already started. He disclosed that some senior politicians of the party had had two meetings with the military leadership in as many months.
Using his peculiar metaphorical language, Rashid said the metamorphosis of "N" into "S" has started. He wouldn't explain the symbolism, but he was understood to be predicting a major split or coup in the PML-N by the Shehbaz Sharif-led moderate faction against the hawkish approach of Nawaz Sharif.
Nawaz Sharif, who is currently in London, has been declared a proclaimed offender after his refusal to return and serve a seven-year jail term which he was handed by a court on charges of financial corruption.
Nawaz Sharif's anti-establishment narrative has spawned troubles for the PML-N – many in the party admit this in hushed whispers.
Rasheed said PML-N's senior politicians had had two meetings with the military leadership within as many months. The first meeting lasted for five hours and the second for three hours. "Shehbaz Sharif and I ate dinner on the same table in the first meeting," he claimed.
The minister further claimed that PML-N's Khawaja Asif and Ahsan Iqbal also had one-on-one meetings with the army chief. Ahsan was quick to deny the claim, saying Rasheed was lying.
Rashid's disclosure came two days after the military confirmed that parliamentary leaders of political parties had had a meeting with army chief General Qamar Javed Bajwa and ISI chief Lt Gen Faiz Hameed where the politicians had been cautioned against dragging the military into politics.
A day later, former premier and PML-N leader Shahid Khaqan Abbasi also confirmed the meeting but said that it had taken place at the invitation of the military leadership.
The railways minister, however, said the PML-N had had two meetings in two months with the military leadership. One of the meetings was convened to discuss the upcoming elections in Gilgit-Baltistan, but the participants candidly discussed politics.
In a related development, a senior journalist claimed in his Youtube show that an emissary had conveyed Nawaz Sharif's message to the military leadership in a meeting.
Maryam Safdar, the political heir apparent of Nawaz Sharif, denied any such meeting. But the railways minister hit back: "The day Maryam Safdar starts speaking the truth will be the end of her political career."
COMMENTS
Comments are moderated and generally will be posted if they are on-topic and not abusive.
For more information, please see our Comments FAQ