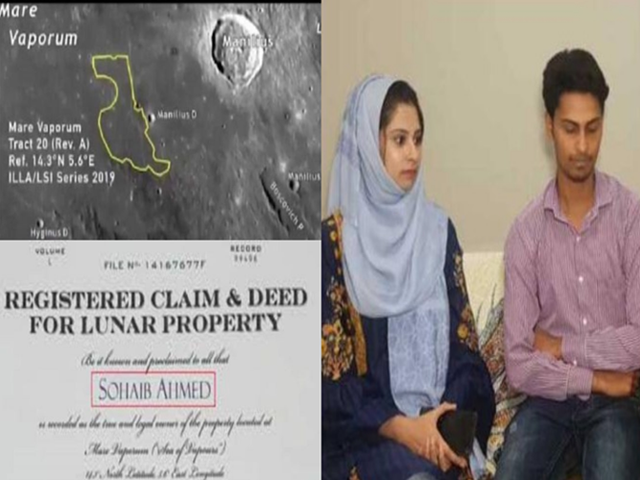 ---
RAWALPINDI:
A Pakistani man has given his wife a wedding gift most of us wouldn't think of buying - an acre of land on the moon, the Gulf News reported.
The man, identified as Sohaib Ahmed, is a resident of Rawalpindi. He apparently bought the lunar land in the region called the 'Sea of Vapour'.
The land was bought for $45 (7,442 Pakistani Rupees) from the International Lunar Lands Registry. The couple were sent the documents of the land on the moon at their home via US Postal Service.
According to the Lunar Settlement Initiative's website, "under the terms of the LSI, property claims on Lunar may be offered to private entities to finance the exploration, settlement, and development of the Moon and its resources".
Ahmed said that he was inspired by late Bollywood actor Sushant Singh Rajput to buy his own piece of land on the moon. In 2018, Sushant bought a piece of land in the region of Mare Muscoviense, or the 'Sea of Muscovy' through the International Lunar Lands Registry.
"At first everyone thought it was a joke, but then I showed them the documents, and then they believed it." Ahmed's wife, Madiha, remarked.
According to the Gulf News' report, while many companies on the internet are willing to sell you land on the moon, in reality, both India and Pakistan have signed an international treaty, which makes it impossible for anyone to legally lay claim on a piece of land in outer space.
On September 12, 1967, Pakistan signed The Outer Space Treaty, which came into effect on October 10 that year. It states that outer space, including the Moon and other celestial bodies, are the "common heritage of mankind", and cannot be owned by any nation. For common heritage, private ownership does not apply.
COMMENTS
Comments are moderated and generally will be posted if they are on-topic and not abusive.
For more information, please see our Comments FAQ