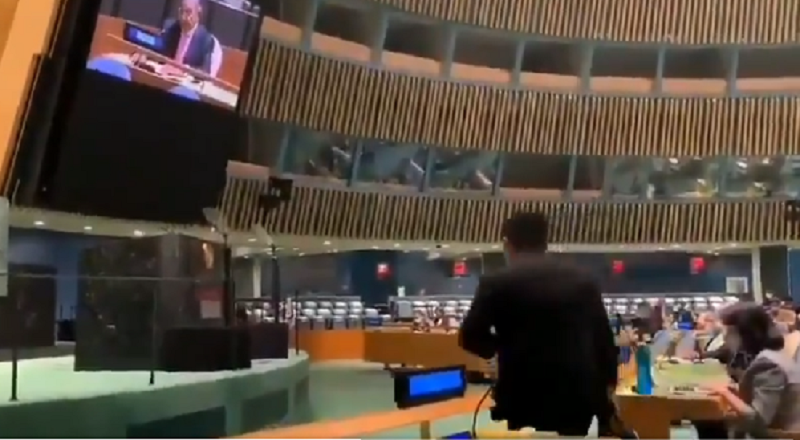 ---
The Indian delegate perturbed by Prime Minister Imran Khan's annual UNGA speech walked out of the hall as soon as his pre-recorded video statement began broadcasting on Friday.
In his speech, PM Imran took aim at his Indian counterpart Narendra Modi saying his government in line with RSS ideology was set to marginalise minority communities particularly Muslims of the country.
He also urged the UN Security Council to take note of the atrocities being committed by Indian forces in the Indian Illegally Occupied Jammu and Kashmir (IIOJK) and urged New Delhi to repeal its unilateral measure of revoking the special status of the occupied territory and end its military siege.
The delegate, a junior diplomat named Mijito Vinito from the 2010 batch of the Indian Foreign Service, picked up his papers and left the hall as PM Imran's speech was played on a large overhead screen, Hindustan Times reported.
India, the premier said, was playing a dangerous game of upping the ante against Pakistan in the nuclearised environment. Despite repeated provocations along the Line of Control (LoC), Pakistan has exercised maximum restraint, he added.
"My parents were born in colonial India and I was among the first generation which was born in independent Pakistan… I want to make it clear that any attempt against Pakistan by RSS-BJP led Indian government will meet a nation which will fight for its freedom till the end," he warned.
Following Imran Khan's address, TS Tirumurti, India's permanent representative to the UN, tweeted that the country would use the "right of reply" facility to respond to the Pakistani premier's address.
"PM of Pakistan statement a new diplomatic low – at 75th UN General Assembly. Another litany of vicious falsehood, personal attacks, war mongering and obfuscation of Pakistan's persecution of its own minorities & of its cross-border terrorism. Befitting Right of Reply awaits," Tirumurti according to Hindustan Times report said in his tweet.
PM Imran's Indian counterpart Narendra Modi is expected to address the UN General Assembly through a video statement on Saturday.
COMMENTS
Comments are moderated and generally will be posted if they are on-topic and not abusive.
For more information, please see our Comments FAQ